Courtesy Utah Division Of Wildlife Resources
I guess I do have something in common with Indiana Jones. I really, really don't like snakes.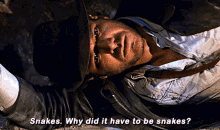 Doesn't matter what kind, if it slithers, no thank you. Somehow as a kid I was talked in to holding a what someone said was a garter snake in a classroom incident. I guess it was a "harmless" snake, but I was traumatized by the incident.
So you can imagine the joy I had when I got the latest news release from the Division of Wildlife Resources. Rattlesnakes are beginning to emerge from their winter dens. I thought my best reaction to that would to be like the rich guy from the movie Contact and just spend the next several months flying around on a plane, but then the Snakes on a Plane movie ruined that option.
So, I guess my best option is to do my best to avoid them here on terra firma. Fortunately, the DWR has some good tips on that.
While rattlesnakes are most active during the dawn and dusk periods of late spring and early summer months, you can have an encounter with them anytime, so always be watchful when you are outside and especially when on hiking on the trails of the region.
Rocky benches, high-elevation slopes and dry canyons are the most common places in Utah to encounter rattlesnakes, often while people are out hiking, rock climbing or biking. However, rattlesnakes can also be encountered at lower elevations and in open areas. A rattlesnake's camouflage helps it to blend into its surroundings, so you may pass by a rattlesnake and never know it.
Much to my chagrin,
rattlesnakes are protected under Utah law, making it illegal to harass or kill one. Rattlesnakes use their venom to subdue prey so they can eat it, and a snake will only bite defensively if it feels threatened. Rattlesnakes do not chase people and will stop aggressive or defensive behavior once you are far enough away. Snake bites are quite rare, and harassing or trying to illegally kill the snake greatly increases the risk of being bitten. Never corner a rattlesnake or get close enough for a bite to occur.
When you are out hiking, make sure to always watch the trail ahead of you and to check carefully before stepping over rocks, reaching onto ledges or sitting down on a rock or log. Keep your hands and feet where you can see them and avoid reaching into dense brush or crevices before visually checking them to make sure they are clear.
So, what happens if you do encounter one of these beasts? First of all, the DWR says to remain calm (I've already failed). Stay at least 10 feet (how about 10 miles?) from the snake and give it room. If the snake is in the middle of the trail, step off the trail and go around it.
Don't try to kill the snake. Once again, that's against the law. Plus if you're only likely to irritate Mr. Snake and put a target on yourself.
If you throw something at a snake that may provoke the reptile to move....towards you! I would call that counter productive.
If you're with a group, make sure you alert other people where the snake is and to use caution when getting near. Kids and pets? Just keep them away.
If you hear the rattle, quickly determine where it is coming from so you don't step closer to the snake or actually step on it.
Now if you are settled in to an area, like for camping, and you're concerned after seeing a rattlesnake that it may return to the area, the DWR says that doesn't happen that often, but if it does they sat to contact them and report it.
There's a lot more good advice on the Division of Wildlife Resources website, and you can also get great tips at the Wild Aware Utah website.
As for me, I think I'll have a long talk with Samuel L Jackson and find a safe plane to get on.
LOOK: Here are the pets banned in each state
Because the regulation of exotic animals is left to states, some organizations, including The Humane Society of the United States, advocate for federal, standardized legislation that would ban owning large cats, bears, primates, and large poisonous snakes as pets.
Read on to see which pets are banned in your home state, as well as across the nation.