Some of Utah's Fun Family Reunion Traditions
What do you do at your family reunions? Do you dread them? Here are a few ideas to get you and your kids a little more excited to spend hours and a family reunion this year.
Play a sport!
Just bring a bunch of game balls so that those who are active can play. Soccer, basket ball and volley ball are my families best choices. Even if there is no nets, the kids will find ways to play.
Play card games
We do this every year whether we are camping or at a family pic-nic. Bring a variety and people can split into groups to play. Packing cards isn't hard and they don't take up much room.
Guessing games
For as long as I can remember my mom has filled jars of candy and money for everyone at the family reunion to take guesses. Everyone loves it. Whoever guesses closest without going over the number wins and gets to keep the jar. My mom makes sure she gets cool containers so that is part of the prize as well. Some people are more stocked about the container than they are the candy inside.
Have a cook off
Anytime a challenge is included, it makes cooking a little more fun for some of us. The prizes don't have to be big either. We have spent as little as $15-$20 for the prizes and awards. If you get certificates for the top 3 winners, it is a fun little competition with a great photo op for posterity.
If you have any great ideas that work for your family reunions let me know! @aaronee@townsquaremedia.com I love mixing it up and trying new things with all of the stuff that already works for us.
I just learned this hack and it is gonna save so much time and my poor little fingers. Cut time on the side dishes and have more time to focus on the marinating meat. yum!
Potato Salad Hack!!!
My family loves potato salad. Potato salad shows up at all of our Utah family reunions and all of our family and neighborhood BBQ's. (My aunt Judy makes us a separate onion free potato salad every year. Now that's love ♥ ) The worst part is shelling the eggs. I have tried every trick possible to get those shells off. 
Vinegar or baking soda in the water, hot water to cold shock in an ice bath, and the list goes on. In our recipe we use a lot of eggs. It makes it so delicious. So what if I told you that you don't need to shell ANY eggs for your potato salad ever again???? That would make my year. Every time I have to peal a lot of eggs the tips of my fingers get a little raw and sore. Those shells can be sharp and painful.
I kind of feel like I am doing one of those infomercials where everything is exaggerated and falling apart.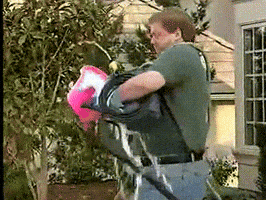 So here's what you do to get a ton of eggs done for your potato salad. Spray a heat proof glass bowl with cooking spray of choice. You crack your eggs into the glass bowl. Crack as many eggs into the bowl as you need for the amount of potato salad you are making.
Heat up a pot of water until it is boiling. Make sure the pot is big enough to hold the glass bowl of eggs. Once it is boiling put the glass bowl of eggs floating in the water and cover with a lid. You cook it the same amount of time as regular boiled eggs, so about 12 minutes. Unless you have an instapot then it is 5 minutes. Then you have a gorgeous egg loaf that you do not have to peel! Yay! You just let it cool and slide it out of the bowl, then chop it up. You can see the recipe and ideas here: No Shell Eggs
It is already heating up and cooking over the stove is getting a little toasty. Now is the season for crock pots. Not only does cooking with a crock pot not heat up your house, but it can fill your house with delicious smelling dinner while you are at work!  One of the best hacks for summer meals is to cook up enough meat for the week or longer.
BBQ Pork
You can double batch some BBQ pork and freeze half of it for later. BBQ Pork can be used for tacos, salads, sandwiches and to put on top of some roasted potatoes and carrots. It is a great staple for summer meals. Here is a good recipe to get you started. BBQ Pork Recipe
Chili is another great meal for the crock pot. I make enough to have it on hotdogs and backed potatoes and just spread those meals out so that it doesn't feel like too much of a good thing. I like some spice in my chili so here is my recipe:
Aaronee's Crock Pot Chili-
2 tablespoons of olive oil to caramelize onions and bell peppers
1/2 onion caramelized
2 lbs. of browned hamburger
1/2 green 1/2 red bell peppers diced & caramelized
2-3 jalapeños
Full clove of minced garlic (l love garlic)
1 drained and rinsed can of pinto beans
1 drained and rinsed can of black beans
1 drained and rinsed can of northern white beans
I 16oz. can of tomato paste
1 1/2 water
2 tablespoons of your favorite taco seasoning
salt to taste
Throw everything in the crock pot on low for 3-5 hours for flavors to melt together into a delicious pot of goodness.  Top with sour cream, cheese, scallions, cilantro and serve with cornbread or corn chips.
Chicken Broccoli Casserole-
I absolutely love chicken broccoli casserole and in the summer I just don't want to heat up my oven for anything. Because of the heat I was missing out on this creamy, cheesy, delicious meal. So I decided to look up how I could get this done in a crock pot while I'm at work. This is a great fill in recipe for your crock pot: Creamy Chicken & Broccoli
If you have any amazing recipes that I need to add to my meal rotation for summer, let me know! Email me here @Aaronee