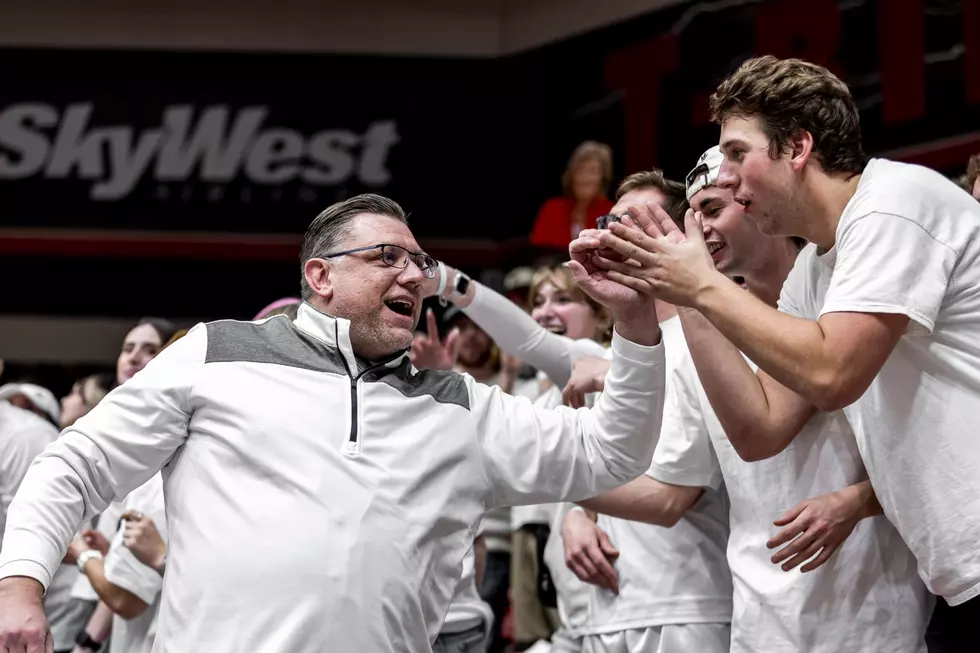 T-Birds Look to Rebound With In-State Match up With UVU
SUU Media Relations
CEDAR CITY, Utah. The Southern Utah men's basketball game, winners of four of its last five games, welcomes Utah Valley to the America First Event Center on Thursday, Jan. 26 at 7 p.m. MT before enjoying a rare weekend off.
---
GAME INFO
Southern Utah vs. Utah Valley
Date: Thursday, Jan. 26
Tipoff: 7 p.m. MT
---
WAC Standings
The Western Athletic Conference looks at overall standings a bit differently than other conferences as non-conference strength of schedule is factored into where the league will seed its teams heading into the conference championship at the end of the regular season.
So, even though SUU is tied for third in the conference with a 6-2 record, the 'Birds are seeded fifth if the season ended today.
This week, Southern Utah can continue to climb up the rankings with a contest against top-seeded Utah Valley on Thursday.
2022-23 WAC MBB Resume Seeding System (as of Jan. 15)
Rank    Team                     W    L    CW    CL    WACPts
1.    Utah Valley                   16    5      7       1      4.09
2.    Seattle U                      16    4      7       0      4.03
3.    Sam Houston               15    5      5       3      3.57
4.     Grand Canyon             13    7      4       3      1.77
5.    Southern Utah            14    7      6       2      1.67
6.    Stephen F. Austin          13    7      5       2      0.92
7.    California Baptist           12    8      4       3     -0.20
8.    Tarleton                         10    10    3       4     -0.59
9.     Utah Tech                     10    10    2       5    -1.19
10.     UTRGV                       10    10    1       6    -2.53
11.    Abilene Christian          10    10    2       5    -2.96
12.    NM State                      7     13    0       8    -3.28
13.    UT Arlington                  7    14    2        6    -4.54
---
PREVIEW
SOUTHERN UTAH (14-7, 6-2 WAC)
National Rankings!
Southern Utah ranks amongst the elite in the country in several statistical categories.
Points Per Game - Team
1, Gonzaga, 86.5
2, Southern Utah, 86.0
3, Cornell, 85.1
4, Toledo, 84.9
5, James Madison/Youngstown State, 84.5
Rebounds Per Game - Team
1, Alabama, 46.37
25, Southern Utah, 39.33
Defensive Rebounds Per Game - Team
1, Alabama, 32.79
16, Southern Utah, 28.38
Fast Break Points - Team
1, TCU, 21.11
23, Southern Utah, 14.62
Scoring Margin - Team
1, Houston, 22
17, Southern Utah, 12
---
NCAA Men's Basketball NET Rankings
The NET Rankings include more components than just winning percentage. They take into account game results, strength of schedule, game location, scoring margin, net offensive, and defensive efficiency, and the quality of wins and losses.
WAC NET Rankings
Current, Team, Previous, SUU Win/Loss
50, Sam Houston, 49, W
75, Utah Valley, 79
97, Seattle, 106, L
103, Grand Canyon, 101
119, Southern Utah, 105
133, Stephen F. Austin, 131, W
146, California Baptist, 168
186, Utah Tech, 190
199, Tarleton State, 170, L
207, New Mexico State, 194, WW
237, Abilene Christian, 248
285, UTRGV, 284, W
290, UT Arlington, 270
---
T-Bird Tidbits
Southern Utah, the second-highest scoring offense in the country, beats its opponents by an average of 12.7 points a game.  Overall, SUU scores 86.0 points a game, while holding opponents to 73.3 points a game.
The Thunderbirds shoot 48.2 percent from the field, 33.9 percent from beyond the arc, and 71.3 percent from the charity stripe.
Additionally, the 'Birds average 39.3 rebounds, 14.1 assists, 8.4 steals, and 3.5 blocks per contest.
---
Individual Leaders
Four Thunderbirds average double-digit scoring with senior guard Tevian Jones leading the way with 19.6 points a contest.
Senior guard Harrison Butler (11.6), senior forward Maizen Fausett (11.5), and sophomore center Jason Spurgin (10.1) also clear 10 points a game.
Butler (6.5) and Fausett (6.3) lead the way in rebounds with Spurgin a close third with 5.6 boards a game.
Sophomore guard Drake Allen paces the team with 3.5 assists a game, while Spurgin averages 1.7 blocks a contest.
---
Career-Scoring Charts
Senior guard Tevian Jones paced SUU's scoring against Seattle as he collected a double-double including 21 points and 10 rebounds. With that offensive performance, Jones became just the 11th member of the 1200-point club while in a Thunderbird uniform with 1,203 since transferring from Illinois.  Overall, Jones also entered the 1,300-point club with 1,301 total points in his career.
Senior forward Maizen Fausett scored 16 points as he moved his career tally to 1,363.  He's working to move past his former teammate, Dre Marin, for third all-time on the charts (1,434 points from 2017-22).
Senior guard Harrison Butler scored six points against Seattle as he also joined the 1,300-point club with 1,302 points as a Thunderbirds.  That vaulted him from seventh all-time to fifth all-time as he leapfrogged James McGee (1,300; 2014-18) and Richard Barton (1,297; 1989-93).
Sophomore center Jason Spurgin fought through some foul trouble to also score in double figures with 10 points.
Points
1,710; Davor Marcelic (1989-1992)
1,568; Jeff Monaco (1997-2001)
1,434; Dre Marin (2017-2022)
1,363; Maizen Fausett (ACTIVE)
1,302; Harrison Butler (ACTIVE)
1,300; James McGee (2014-2018)
1,297; Richard Barton (1989-1993)
1,273; Jackson Stevenett (2010-2013)
1,223; John Knight III (2019-2022)
1,205; Davis Baker (2007-2010)
1,203; Tevian Jones (ACTIVE)
---
LAST TIME OUT
SEATTLE, Wash. The Southern Utah men's basketball team took a loss against Seattle University on the road, 81-60.
SUU's record moved to 14-7 and 6-2 in the Western Athletic Conference while Seattle remained undefeated in conference play with a record of 16-4 and 7-0 in the WAC.
First Half
The Thunderbirds raced out to an early 7-3 lead with 16:45 on the clock thanks to some circus shots from Tevian Jones, who accounted for five points early on.  Seattle, however, countered with its second triple of the contest to pull to within 7-6 heading into the first media timeout.
The Redhawks raced out to an 11-0 run coming out of the timeout to snare a 14-7 advantage with 13:22 on the clock thanks to a trio of three-pointers and a jumper.  Harrison Butler ended that run with a trifecta of his own to cut the deficit to 14-10 with 12:58 to go before Jason Spurgin drained a layup to move to within two points, 14-12, at 12:18 on the clock.   Seattle sent the squads into the next media timeout with its fifth trey of the game as the Redhawks led, 17-12.
Maizen Fausett drove through the lane for a layup as the 'Birds closed to within 17-14 at the 10:14 mark before Seattle converted its sixth three-pointer of the game to increase its lead to 20-14 at 10:00.  The Redhawks moved up by five, 22-14, at 9:17.
With the long-distance shots not falling for Southern Utah, Spurgin started the shoulder the load in the paint.  Spurgin converted an old-fashioned three-point play at 8:48 to close to within 22-17 at 8:48. Spurgin hammered home a dunk with 8:15 to go to move the 'Birds within 22-19 and then canned a jumper in a 7-0 Spurgin run as Southern Utah cut the deficit to 22-21 with 7:57 on the clock.
The Redhawks responded with a quick 4-0 burst to go back up 26-21 with 5:49 on the clock before Fausett had his own 4-0 spurt with a layup and a dunk to pull the 'Birds back to within one, 26-25, with 5:10 to go.
After Seattle's seventh made triple, Jones started to get going again with a layup as SUU trailed, 29-27 with 3:52 on the clock.  Jones drained a tough jumper with 3:25 to go to knot the contest back up at the 3:25 mark.
With another swift 5-0 run from Seattle to move back up 34-29, Drake Allen split a pair of free throws as Southern Utah trailed, 34-30, with 2:28 to go.  The squads then traded scores including another circus shot from Jones as the 'Birds moved to within 36-32 with 1:33 on the clock. Jones connected on a pair of free throws with 29 seconds to go as Southern Utah closed to within 36-34 heading into halftime.
Second Half
Seattle went straight at Jason Spurgin to start the second stanza as Spurgin drew his third foul.  The Redhawks split their trip at the line to move up 37-34 before Parsa Fallah canned a jumper to cut the lead to 37-36 with 19:06 on the clock.  Seattle, however, countered with a jumper of its own to stretch the lead back to 39-36 at 18:50.
Maizen Fausett checked in with a layup as SUU moved to within 39-38 at the 17:53 mark before both squads struggled to find the bottom of the net as the score would remain 39-38 heading into the media timeout at 15:29.
Fausett put the 'Birds up for the first time since 16:00 on the clock in the first half thanks to a layup as SUU snagged a 40-39 advantage with 15:06 to go.  Seattle responded with a pair of free throws to retake the lead, 41-40, with 14:23 on the clock.
Fausett countered again with yet another layup with SUU back up 42-41 at 14:07 to play. After a second-chance layup from Seattle to move back into the lead, 43-42, with 12:12 to go, Drake Allen converted a layup of his own for a 44-43 advantage with 11:51 on the clock. After another Seattle layup, Tevian Jones flushed a fast-break layup as Southern Utah took a 46-45 advantage with 10:45 to go.
Seattle reclaimed the lead coming out of the media timeout with its ninth three-pointer as the Redhawks led, 48-46 at the 10:31 mark.  The Redhawks stretched that advantage to 50-46 with 9:50 to go. Seattle stretched its lead back up to 53-46 with its 10th triple of the game at the 9:11 mark.
After Jones made a technical free throw thanks to a flop by Seattle, the Redhawks put themselves back up 55-47 with 8:42 to go.  Spurgin then split a pair of free throws before Seattle extended the lead back to 57-48 with 8:15 to go.
The Redhawks stretched their advantage to 59-48 with 7:43 to go as part of a 14-2 run.  Dee Barnes raced his way into a layup to close SUU to within 59-50 at the 6:23 mark before the Redhawks hit an 11th three-pointer to snare a 62-50 lead with 6:23 to go.  Seattle then pushed the lead to 63-50 with a technical free throw at 6:20. Butler split a pair of free throws as the 'Birds moved to within 12 points, 63-51, at the 6:15 mark.
Seattle, however, had different plans down the stretch as the Redhawks took a 19-point lead, 72-53, with 4:02 left on the clock.  Seattle closed out the contest to capture an 81-60 win.
---
OPPONENT
UTAH VALLEY WOLVERINES (16-5, 7-1 WAC)
Utah Valley stands atop the WAC Tournament Resume seedings with a 16-5 overall record and a 7-1 mark in the conference.
Utah Valley scores 77.0 points per game while holding opponents to 67.3 points a contest for an average margin of victory of 9.7 points.
Four Wolverines average double-figure scoring with Justin Harmon (13.8), Trey Woodbury (13.4), Le'Tre Darthard (12.6), and Aziz Bandaogo (11.1) all clearing 10 points per game.
Bandaogo, meanwhile, averages a double-double per contest with 10.4 rebounds per game. Woodbury leads the team in assists with 4.5 helpers per game.
---
HISTORY
Southern Utah holds a 5-4 edge in the series history against Utah Valley and is on a four-game winning streak against the Wolverines with wins dating back to 2015. Utah Valley last won in Cedar City on Nov. 22, 2014 (85-75).